Gold Coast Acupuncture Burleigh Clinic
Studio Qi's Burleigh Acupuncture clinic Gold Coast was created by husband and wife team Brad and Tabitha Fennell in 2000.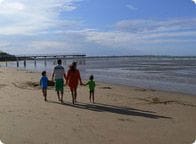 With a move to the Gold Coast and both of us discovering Acupuncture from our own unique experiences, we found a vision to authentically deliver Acupuncture in Burleigh in a way that would change lives.
When designing what it was we wanted to achieve we looked at one of the foundational ideas in Traditional Chinese Medicine (TCM); that of Qi. Pronounced 'chee', it roughly translates to
energy'. Qi really is its own concept, it communicates how you feel both physically, emotionally and how your energy is. So we thought 'a studio of energy' and now Studio Qi continues to evolve as a clinic focused on following, unfolding and discovering the best ways to work with you.
As Studio Qi evolved we began to treat a large array of issues and developed a unique system we call Acufacilitation. This is a technique that you will find nowhere else that incorporates theories and practices of Acupuncture with a philosophical understanding of living in harmony with nature, including your nature. It's more than just needles.
Everything you experience at Studio Qi Gold Coast Acupuncture clinic is based on Acupuncture techniques, philosophies and ideas. Acupuncture is our life, we are specialists in Acupuncture and we look forward to sharing our knowledge and experience with you.
Qualified Acupuncture Specialists
We are qualified Acupuncture specialist registered with the peak Acupuncture body AACMA. Our training and experience guarantees that your treatment is both safe and effective.
Our Acupuncture treatments focus on what it is that you wish to achieve. We will communicate our knowledge simply allowing you to make informed decisions and recieve the best possible results. Often the simple changes that we recommend will make a dramatic and immediate difference.
We can work with you
Whether you are looking for Acupuncture for fertility assistance, IVF, pregnancy or labour support, stress, anxiety, injury or pain management, being one of the busiest Acupuncture clinics on the Gold Coast ensures that we lead in experience and knowledge when it comes to dealing with your personal needs.Whatever your situation we can help.