A Cup of Broth a Day!!
Posted by Tabitha Fennell on 2 February 2015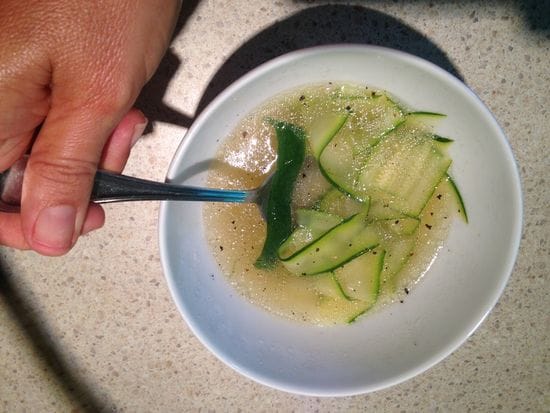 My home made chicken broth with some thinly sliced zucchini has been keeping me warm and nourished while I've been on my cleansing new way of life.
It's known to reset your gut flora, helping balance the tummy upsets such as bloating, gas, constipation, and even levelling emotions.
Have a look at this easy recipe we use...
CHICKEN BROTH RECIPE
You will need a deep heavy based pot to cook this in.
1 x organic whole chicken
6 x litres of water
2 x brown, organic onions
3 x organic celery sticks (leaves and all)
3 x organic carots (skin left on)
A good pinch of salt
What to do
1. Take off drum sticks and breast meat, use this for another dish.
2. Place rest of chicken carcass in water, then roughly chop vegies and add pinch of salt. Let this sit for 30 mins.
3. Turn on high and bring to boil, scraping off any dirt looking froth.
4. Once boiling you can then turn on to low so it simmers for 3 hours or more, scraping off dirty froth as it appears.
5. Let cool, then separate the chicken carcass and vegies, discard these to bin.
6. Store the broth in glass containers in the fridge, when cold you can put them in smaller containers to freeze.
There will be fat on the top, this is good fat and full of nutrients so you can use it in the broth to drink or make soup.
I have a cup a day like tea or add vegies or an egg for breakfast or lunch.
We add our broth into all our cooking and if the kids have a cold we let them drink it as tea.
You can add extra salt and pepper to suit your taste buds.
It's so soothing and after I drink it I always feel refreshed.
Have a try, it's so easy to make. If you can go organic you are going to get an even healthier punch of nutrients.
Enjoy!
Best,
Tabitha
Author:
Tabitha Fennell
About: Acupuncturist and Director of Studio Qi