Recipe for Chocolate Coconut Slice
Posted by Tabitha Fennell on 13 February 2014
This is a fantastic, easy treat to make if you're trying to come off sugar or just a healthier choice in your sweets. It's raw so you need to keep it in the freezer. Just cut it into bite size pieces and when you want a sweet treat this will quell your craving.
Makes 1 large tray.
INGREDIENTS:
Base:
1 cup almonds
1/2 cup cashews
1/2 cup macadamia nuts
1 cup dried dates (medjool)
1 cup desiccated coconut
4 tablespoons cacao powder
4 tablespoons carob powder
3 tablespoons raw honey (although you may not need this as the slice is already sweet enough)
3 tablespoons raw coconut oil
METHOD:
Put the nuts into a food processor and mix until fine.
Add the desiccated coconut, cacao powder and carob powder and mix.
Add the dried dates and mix until fine.
Pour into glass bowl and add the honey and coconut oil and mix with a spoon thoroughly until all is mixed well. Add extra coconut oil if needed.
Press mix into tray and refridgerate.
Then cut up and keep in the freezer for a snack.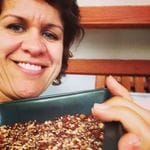 Author:
Tabitha Fennell
About: Acupuncturist and Director of Studio Qi