Summer = Heart energy in TCM
Posted by Tabitha Fennell on 18 February 2020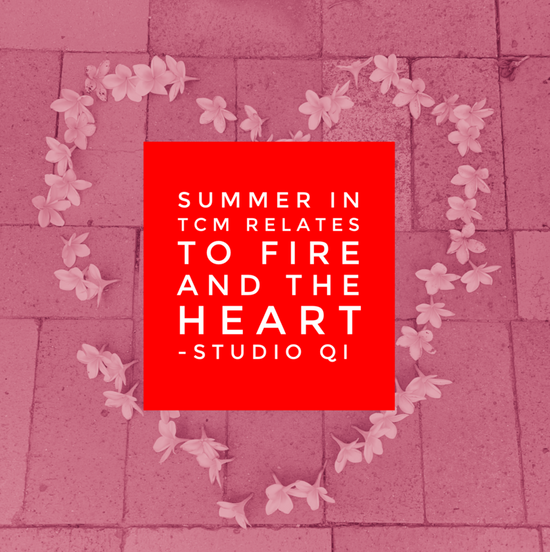 In Traditional Chinese Medicine (TCM) summer is the time for heart energy, it represents the outward expression of energy, expansiveness, movement and activity.
It is the most yang of seasons and is ruled by fire, life and our energy at its peak.
In TCM summer relates to the heart (Yin) and the small intestine the (Yang).
The heart pumps the blood and the small intestine separates the pure from impure foods in our digestion but also from our relationships and consciousness.
Colour - Red
Emotion - Joy
Sound - Laughter
Taste - Bitter
Direction - North
So how does this affect us and what can we do?
Summer is a great time to heal past hurts and fill the heart with joy and happiness.
Mental acuity is associated with the heart therefor memory, thought processes and emotional wellbeing also can be affected.
When the heart is balanced the mind is calm, we sleep well and wake rested, plus we laugh with ease.
When the heart is unbalanced we lack joy which can manifest in depression or have excess joy leading to mania or manic episodes. Nervousness, insomnia, heartburn and confusion plus red complexion, poor memory and speech problems all indicate in TCM that the heart energy is out of balance.
Exercise is so important and good cardio workouts matter, but we also need rest and down times to keep the balance. Lots of extra water is needed in these months.
Foods for summer are more cooling so for those who have a weak digestion please go easy on these and the best tip is to not eat them cold from the fridge, leave them on the bench to drop to room temperature or add in the bitter greens to the salads for more heat.
Apricot, Watermelon, Strawberries, Tomatoes, Lemons, Sprouts, Bok Choy, Broccoli, Corn, White Mushroom, Seaweed, Mint, Dill, Duck and Fish. Plus your bitter greens like Spinach and Kale.
Enjoy this Summer heart energy!
Tabitha
Author:
Tabitha Fennell
About: Acupuncturist and Director of Studio Qi