Erotic friction for higher libido
Posted by Tabitha Fennell on 24 February 2019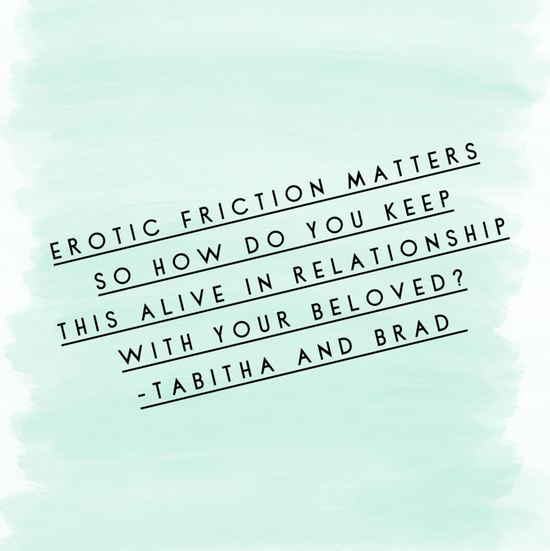 Erotic Friction is something that we need to have between us to help our libido build and stay active.
Long term relationships usually need help around this and here is why.
So in relationships we usually have a lot of sameness, we love the same food, the places we holiday, our general living habits, the kids, the animals etc, but as we grow together we can often naturally reduce our differences and when we do this the fire and passion, that erotic friction drops and then so does our libido. You're still in love with your partner but the fire is less. Make sense?
So it's important that we cultivate differences within our relationship, these are the things that you do separatly that make you feel alive and vibrant. Like certain hobbies, exercise and friend time without your partner. These things help you bring the spark to light that fire for your relationship and most importantly for you. When you find and do your differences this brings an intriguing energy back to the relationship and will make you look and feel different to your parnter which will turn your partner, lover on.
Explore and get into your differences, this will feed your erotic friction straight back into your relationship which will turn your libido on, your fun on and your happiness on.
Click HERE to listen to Turn on the Podcast Episode 9: Libido and Background Pleasure
Tabitha
Author:
Tabitha Fennell
About: Acupuncturist and Director of Studio Qi